Beyond Biography: Artist Jacolby Satterwhite is Changing What it Means to Collaborate
On Working with Trina, Solange, Dev Hynes, and His Mother's Archive
Interview:

Taylor Aldridge

Photography:

Thomas McCarty
The day after his thirty-fourth birthday, I called up performer and artist Jacolby Satterwhite. He had just wrapped up a fantastic year of work and collaboration—co-directing with Solange, where he contributed a video for her visual album When I Get Home, and partnering with Nick Weiss of Teengirl Fantasy to produce an LP entitled Love Will Find A Way Home. The album release coincided with the opening of Satterwhite's multifarious solo exhibition at Pioneer Works, entitled "You're at Home." Satterwhite is concerned with origins and belonging. Through a large scale labyrinth-like installation of sculpture, music, video animation and songwriting notes, the show codified elements of African spirituality, Southern vernacular, 2000s pop-inspired visuals and archival cassette tape audio recordings of his mother, Patricia.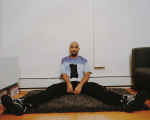 In consideration of the multiplicity of his work, Jacolby tells me he wants the labor that goes into creating to be made more visible in how it is contextualized. What happens when we consider the work of his mother, for instance, in tandem with his own, as an outsider artist being reclaimed in the canon by her mentee and collaborator, who also happens to be her progeny? What is gained when we seek to not flatten (a body of) work into a singular frame, but rather break down the singular work, or body, to parse through the many complicated elements that make it whole? Here, Jacolby and I discuss collaboration as form, and how working with others provides nuance for such an expression of wholeness.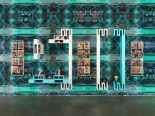 Taylor Aldridge
Jacolby Satterwhite
One of my most memorable moments in a museum was centered around your work. I made a trip to the Perez Art museum in Miami in 2015 because I learned of your collaboration with Trina. A work you made that featured her was being presented as a backdrop to her performance. Can you talk about how that collaboration came to be?
Trina was kind of the foundation for all queer Southern black men to find agency and confidence. In an adverse situation, being around a lot of toxic masculinity in a hood environment, you kinda need to latch on to something as a language to survive. I felt like for me and a lot of my gay black friends, it was Trina. She's kind of like the black gay Marilyn Monroe. [Laughs].
I was exhibiting all of my "Reifying Desire" films at Sundance that year and I was out there in Utah and I ran into some friends. We went to get sushi and, joking, I was like, "I'd do anything to work with Trina." [They were] like, "We know some people, we can make that happen." I flew down to Miami, and we rented this giant green screen studio. Trina came by with her massive entourage and we spent three, four hours shooting. I consider it a form of portraiture whenever I work in a collaborative mode.

The pairing is so perfect and precise. Like many women rappers from that era, Trina's rap persona is this avatar, an alternative being that advocates for herself financially and sexually. Your work tends to focus on avatars and alternative renderings as well.
If you're doing a performance piece—whether it's developing a feminist avatar that has a really abrasive kind of sexual language as a political statement—people want you to stay in that box, forever. It can become a prison. That's what my work is, too. Even though I started as a painter academically, performance is such a big part of my work. I have found myself at war with the character I'm developing because I work so much that I end up adopting certain sensibilities, characteristics, traits, ideas.
I'm intrigued by the way performers are able to try on characters. In your earlier work in subway stations, where you perform in these handmade costumes, you commit to the built environment, and the people in those environments become part of the performance, or a resistance to it. How do you navigate when to share an idea through your body?
When I was engaging with public and live performance and guerilla performance styles—mostly inspired by Adrian Piper, Bruce Nauman, Joseph Beuys or VALIE EXPORT—I was thinking about a 60s and 70s performance history. When Civil Rights segued into a different space, when we really considered like, what is the truth? I knew it was necessary to investigate queer attitudes in my lab expression and use it as a sculpture, build the costumes, build the archetype, put it in digital space, put it in live action space, allow those boundaries to blur in the most tactful way. It was a form of committing to my world-building strategies, but politically or within resistance. Right now, I'm mostly into working with others. I've shot with Dev Hynes for a project that you'll see soon. His identities have taken over my life, because I'm working with his digital image over and over and over. In a way, I'm using his performance and his personal narratives to extrapolate on what I'm building in a digital and architectural world.

Your work tends to reflect the biomythographic possibilities of growing up as a millennial, where we've been able to create prosthetic selves that are fluid through digital landscapes. Your recent show at Pioneer Works codifies this intelligence and possibility while considering impeding climate change, a host of historical and pop references, and specifically your mother's history. Can you talk about your ongoing collaboration with your mother?
Pioneer Works was bringing it all together in one full form—the visual and the virtual reality album, which I was trying to do since 2008. Once I got funding, I decided that I was going to take those resources and collaborate with one of my favorite, electronic producers, [Nick Weiss of Teengirl Fantasy]. We worked on digitizing my mother's cassette tapes that she recorded when I was a child. She wanted to get these songwriting bills, and she wanted to sell jingles to commercials. Regardless of the capitalist intent, it was her cathartic way of dealing with a lot of her pain and transgression that brought her to her mental illness. [Her tapes] have so much poignant lyricism; this idea of committing to write over 155 to 205 songs. I felt like if I could curate these twelve songs into a narrative, it was a way for me to outsource lyrical content or to storyboard a visual narrative that speaks to me. The collaboration is not a sentimental one. That's what frustrates me about a lot of the headlines and conversation about the work, is that it sort of calls it a homage or tribute. It's more like I took an antiquated cassette tape from 1998, digitized and used new prosumer technology to develop a concept record that speaks to the history of African and Southern folk music, mixed with acid house from Detroit and Chicago. Everything is super meta and crystallized and conceptually threaded out with intent that is far away from the sentimental tribute stuff. I've been trying to guide the conversation elsewhere.
Beyond the autobiographic?
There are other conversations to be had. In the Pioneer Works show, there's an homage to Robert Farris Thompson's Flash of the Spirit. All the rituals in the film, and even the songs are about rebirth and renewal and second chances and redemption. And my mother's lyrics happened to be the icing on the cake, because her lyrics in the album are about this person who's changing into a different kind of person and reconciling with that transition, with letting the past go, not letting the pain go. There's so many devices and strategies that go outside of my mom, definitely. But it's a big part of me and it's something I can't deny.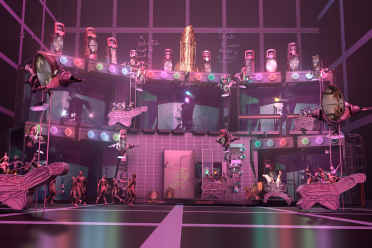 I want to come back to this notion of rebirth and transitioning. I was revisiting an interview you did with Solange and you share that you met and started collaborating when you were both coming out of your Saturn Return. I'm curious to know how that astrological phase has influenced your way of working.
We still have development phases, even in our adulthood. I think between 27 and 33, sometimes you get divorced or you get married or you get this life-changing job, but it's always something that puts your back against the wall and makes you find out who your true adult self is. I think the law of gravity in the universe kind of brought things into my orbit that I needed to deal with and negotiate with in order to survive. In order to be an artist for the rest of my life. And I think that's what Solange's record is about—I found it really eerie how she and I were on a very similar conceptual wavelength. A Seat at The Table was such a political record. Not political, but it had such a strong and clear voice and direction…
It was deeply political, and it had a didactic straightforwardness about her position with her blackness, and that was very universal. What's great about When I Get Home, as a compliment to that record is that it's an expression of blackness that we're not allowed to have in capitalism, where we're only sold and bought when we're modifying the rhetoric of our adverse experiences. The model for being a black artist is to emblematize your black pain. When I Get Home was like, "Black people have feelings too and black people are minimalist too." Using repetition and her lyrics and the kind of abstract and jazz instrumentals, it's kind of like a political statement—"This is the other side of me that is just about my feelings, my smile, my joy, and my pain." It was basically abstract blackness. And that's how I feel about my practice. I've always been resistant to being crystal clear on my political positions, in regard to race.
It seems like what you're getting at is a resistance to legibility, and being a single being. That's what I appreciated about Solange's album and I think more recently, your work—it's not this explicit, limiting declaration of being black and what blackness is supposed to be.
It's about the complexities of it too. Studying all of the nuances in the middle spaces and the juxtaposition of different kinds of symbolisms and forms and spaces. It's world-building. And the most radical thing you could do is make someone sit in your world.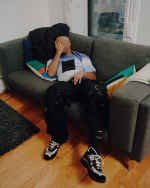 How do you remain inspired in your work? What is inspiring you at this moment?
You know what's inspiring me? Rhythm and blues. I've been listening to a lot of music theory dissections of iconic albums that are like four hours long.
What albums are you listening to?
D'Angelo and Frank Ocean, but also like Tony! Toni! Toné!
You're speaking for my life right now. I've been listening to Voodoo.
I don't know what it is, but it's definitely the mood that I'm in right now. I'm kind of in an absorption phase, because I have to make a whole new body of work in a short amount of time; I've been consuming a little bit of everything. There's a certain kind of composition and visual harmony that I'm definitely, unrelentlessly trying to pursue.
Taylor Renee Aldridge is a writer and independent curator based in Detroit, Michigan. She is currently working on an iterative exhibition centered around Blackpentecostalism and incoherence.
Interview:

Taylor Aldridge

Photography:

Thomas McCarty

Styling:

David Casavant

Date:

March 03, 2020